Starlight II – Bravado (Heavy Traffic Nylon Olefin Blend Level Loop Berber)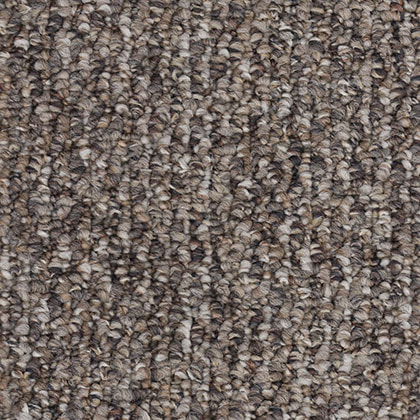 Construction: 100% BCF Olefin
Face Weight: 20.5oz.
Gauge: 3/16
Texture: Multi Level Loop
Fiber Feature: Generic
Dye Method: Solution
Country Of Origin: Proudly made in U.S.A
Pile Height: 21/64" High, 9/64" Low
Width: 12′
Pattern Repeat: 3/4" W x 1" L
Durability: Excellent durability in all traffic levels.
FHA Rated: No
Sustainability: CRI Green Label Plus
Warranties:10 Year Limited Wear & Stain
---
Q&A
What does "BCF" stand for?
BCF stands for "Bulked Continuous Filament," which refers to the way the carpet fibers are constructed. BCF fibers are long, continuous strands of yarn that make the carpet more durable and less likely to shed.
What is Face Weight in carpet terminology?
Face weight is the measure of the weight of the carpet pile per square yard. In this case, the face weight is 20.5 ounces, indicating the thickness and density of the carpet.
What does Gauge 3/16 mean?
Gauge refers to the distance between the tufting needles on the carpet-making machine. A gauge of 3/16 means that the tufts are spaced at 3/16 of an inch apart, contributing to the carpet's appearance and texture.
What does Multi-Level Loop Texture mean?
Multi-level loop texture is a design feature where some loops in the carpet pile are higher or lower than others. This creates a textured, patterned appearance on the carpet's surface.
What is meant by "Generic" in Fiber Feature?
"Generic" indicates that the fiber used in this carpet is not a specific brand or patented material. It is made from standard olefin fibers.
Explain the Dye Method "Solution."
"Solution" dyeing is a method in which the color is added to the fibers before they are made into carpet, ensuring the color is consistent and resistant to fading or staining.
Where is this carpet made?
This carpet is proudly made in the United States.
What is the Pile Height of this carpet?
The carpet has a pile height of 21/64 inches at its highest point and 9/64 inches at its lowest point, creating a textured surface.
What is the Width of this carpet?
The width of the carpet is 12 feet.
What is the Pattern Repeat for this carpet?
The pattern repeat is 3/4 inches in width and 1 inch in length, which means the pattern on the carpet repeats at these intervals.
How durable is this carpet?
This carpet is known for its excellent durability in all traffic levels, making it suitable for both residential and commercial use.
Is this carpet FHA Rated?
No, this carpet is not FHA Rated.
Is this carpet environmentally friendly?
Yes, it is considered sustainable as it is CRI Green Label Plus certified, indicating it meets stringent standards for indoor air quality and low emissions of volatile organic compounds (VOCs).
What kind of warranties are provided with this carpet?
This carpet comes with a 10-year limited wear and stain warranty, providing coverage against specific issues related to wear and staining. Be sure to review the warranty terms for details.